Travelin' Tot Playard

Kolcraft Travelin' Tot or certain rectangular playards manufactured by Kolcraft and sold under the Carter's, Sesame Street, Jeep, Contours, Care Bears or Eric Carle brand names.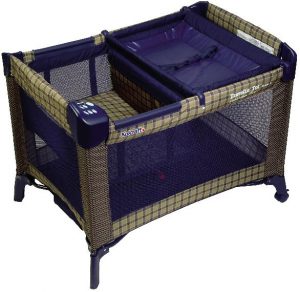 Hazard: Kolcraft is voluntarily recalling about 984,000 infant play yards. The play yards side-rails can sag posing a fall hazard to a child placed in the play yard.
Injuries Reported: Bumps, scrapes, bruises and one possible concussion.
If your play yard model number begins with any of the five digit model numbers listed below, your unit is affected. This includes models with any letters or numbers after these five digits.
Model Number Affected by Brand Name: Kolcraft Travelin' Tot 18709, 18710, 18711, 18713, 18714, 18724, 18725, 18730, 18731, 18733, 18734, 18744, 18751, 18910, 18920, 18925, 18931, 18933, 18934, 18935, 18942, 18945, 18946, 18950, 18951, 18960, 18961, 18962, KP001, KP013, KP014, KP015, KP016, KP027
Carter's Lennon Travelin' Tot 18726, 18736, 18737, 18740
Sesame Beginnings Travel Playards 22361, SP001, SP004
Jeep Travel Playards 55200, 55220, 55225, 55235, 55237, 55770, 55772, 55773, JP002
Contours Playards 18604, ZP001, ZP003, ZP004
Care Bears 18960
Eric Carle Playard with Activity Gym 18763
Number of Units Recalled: 984,000
Date Produced: December 2000 – July 2008
Retail Price: $ 49 – $159.99 US Dollars
Solution: If you own an affected play yard, immediately stop using it and contact Kolcraft to receive a free repair kit. To order your retrofit kit, contact Kolcraft Customer Service:
Call: In the US & Canada Call: 800.453.7673
Email: [email protected]