Kolcraft Recalls Contours Tandem Strollers Due to Fall and Choking Hazards
The U.S. Consumer Product Safety Commission, in cooperation with the firm named below, today announced a voluntary recall of the following consumer product. Consumers should stop using recalled products immediately unless otherwise instructed. It is illegal to resell or attempt to resell a recalled consumer product.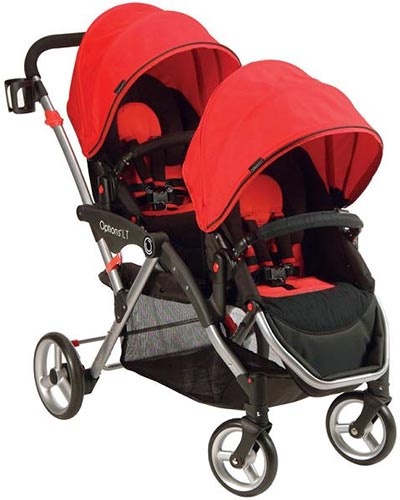 Name of product: Contours Options LT Tandem Strollers
Units: About 5,600
Importer: Kolcraft Enterprises Inc., of Chicago, Ill.
Hazard: The front wheel assembly can break, posing a fall hazard to the child in the stroller. In addition, for strollers manufactured in January and February 2012, the nuts that hold the stroller's basket support screws in place can detach. Detached nuts can pose a choking hazard to young children.
Incidents/Injuries: Kolcraft has received six reports of front caster wheels breaking and two reports of the basket's support screws and nuts detaching. No injuries have been reported.
Description: This recall involves all Contours Options LT tandem strollers with model number ZT012. The model number and date of manufacture are printed on a label found on the rear leg of the stroller. The dual-seat strollers have one mesh basket beneath both seats and were sold in two color schemes; black with red canopies and accents, and gray with yellow canopies and accents. "Options LT" is printed on a bar along the side of the stroller.
Sold at: Burlington Coat Factory and juvenile product specialty stores nationwide and online at Amazon.com, Target.com and other online retailers between February 2012 and July 2012 for about $250.
Manufactured in: China
Remedy: Consumers should immediately stop using the product and contact the company to receive free replacement wheels. Consumers with strollers manufactured in January and February 2012 will also receive replacement nuts for the basket support screws.
Order Repair Kit: If your Date of Manufacture is 01/12 or 02/12, please contact Customer Service at 800-453-7673 or [email protected]