Playard Changing Table
Potential Problem: Kolcraft is voluntarily recalling about 425,000 infant play yards. The play yards have a raised changing table attachment with a restraint strap that forms a loop beneath the changing table, posing a strangulation hazard to a child placed in the play yard without first removing the changing table.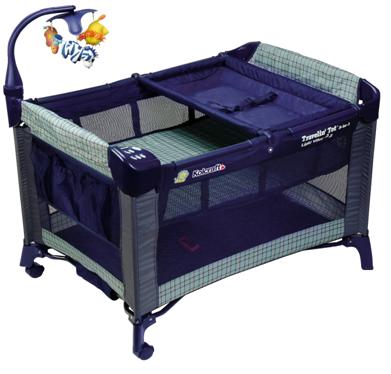 Injuries Reported: One fatality
Model Numbers Affected by Brand Name:
Kolcraft Travelin' Tot 18730T-BZ, 18730T-HJ, 18734T-DV, 18751-DV, 18934-SW, 18934-DV,18935T-UT, 18935-CH, 18942-EC, 18950-GV, 18950T-GV, 18951T-GS,18951T-MO, 18744-BL
Carter's Lennon Travelin' Tot 18740-UE, 18740T-UE, 18736T-LJ, 18737-LJ, 18737T-LJ
Sesame Beginnings Travel Playards 22361-VT, SP001-SBK
Jeep Travel Playards 55235-JC, 55237-JQ, 55237T-JQ, 55237-XC, 55237-XV, 55237T-XB,55770-XA, 55770-XI, 55772-XE, 55773-XY, JP002-XSP
Contours Playards 18604-OC, ZP003-MAL
Number of Units Recalled: 425,000
Date Produced: January 2001 – September 2007
Retail Price: $49 – $130
Solution: If you own an affected play yard, immediately stop using the changing tables and contact the firm for instructions on receiving a free replacement strap for the changing table. Immediately cut off the existing changing table restraint strap.
To order your retrofit kit, contact Kolcraft Customer Service:
Call toll-free: 800-453-7673 or email: [email protected]