Playskool Travel-lite Portable Crib
Potential Problem: In cooperation with the U.S. Consumer Product Safety Commission (CPSC), Kolcraft Enterprises, Inc. is voluntarily recalling the Playskool Travel-Lite. The CPSC and Kolcraft Enterprises have received six reports of infant deaths due to suffocation in these cribs. In each case, an infant allegedly was found entrapped in a folded crib.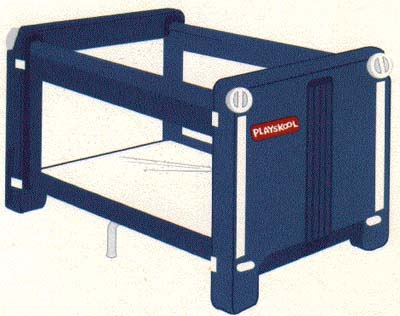 Model Number Affected: 77101, 77103
Number of Units Recalled: 11,638
Date Produced: January 1990 through December 1992
Retail Price: $ 40-70 US Dollars
Solution: If you own an effected Kolcraft Travel-Lite, please discontinue use immediately and contact Kolcraft to receive a $120.00 Child Saver Reward refund. Once you have received your refund check, destroy the Travel-Lite and discard.
To request refund instructions and guidelines for your product, please contact us.
In the US & Canada Call: 800.453.7673
Email: [email protected]